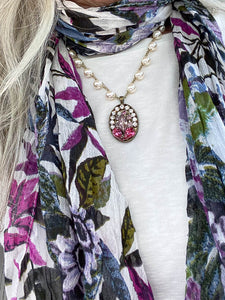 Are you afraid to wear pink, fearing it's a color best left for little girls? I would urge you to press the delete button on that thought right now! If you love wearing pink as I do, wear it! Many women throughout history have been obsessed with the color pink, among them was First Lady Mamie Eisenhower, wife of President Dwight D. Eisenhower. She adored pink, and wore a stunning sparkly pink gown embroidered with more than 2,000 rhinestones for the 1953 inauguration balls. Ooh la la! She even transformed the White House with her favorite color, so much so...
---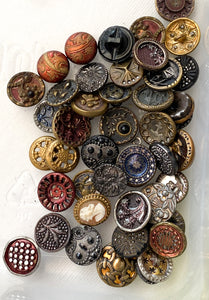 Antique buttons are often amazing miniature pieces of art. I've seen everything from wishing wells, palm trees, and pyramids to spiders, peacocks, and scorpions carved or stamped into buttons. Buttons have represented storybooks, position in society, military rank . . . I could go on and on (obviously I find this fascinating!) but I'll stop and leave you with 5 fun button trivia tidbits. The word button originated from the French word "bouton" which means bud or knob. Originally, buttons were only decorative. The Crusaders introduced the button hole to Europe, giving buttons a new functional role. In 1520 King Francis I of...
---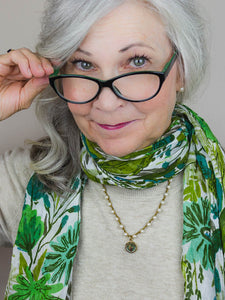 I'm sure you can tell from the photo that my favorite color is and always has been green! But do you now what the most popular color is (at least in the USA)? Go ahead, take a guess. You're right, it's blue! I've no idea how these statistics are calculated, but I do find them interesting. I recently read that the second favorite colors are red and green (makes sense) followed by orange, brown, and purple. Brown? I just would not have guessed that one. So what is most people's least favorite color? I'll give you a hint - think...
---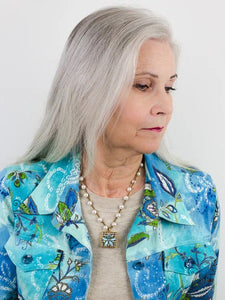 Say "hello" to Star. Though I feel each piece I create is unique, this one is literally a "star" within my necklace collection because of its unique square shape, striking color-of-the-Caribbean-sea hue, and subtle dots of aurora borealis sparkles. The centerpiece was originally a lovely vintage earring, and I like to think its original wearer would be "starstruck" by its transformation. Find out more about this truly one-of-a-kind Star necklace here!
---
If I can add a small detail that adds a touch of charm to a design, why wouldn't I? Even if no one can see the detail when you're wearing one of my pieces - like the tiny wrapped pearl drop at the end of this clasp - you know it's there. I feel these details are one of the hallmarks of handcrafted designs created by a small business. A mass producing machine in a factory will not typically add a tiny detail like this - it's not worth the time and cost. So there are many reasons to choose a...