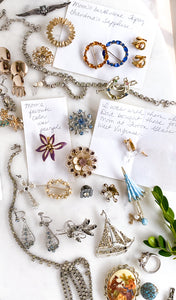 Have you performed a kindness lately or been the recipient of one? Blame it on the media, but I think far too often all we hear is the bad stuff. So when we are the recipients of a kindness done, I think it's important to shout about it from the rooftops (or write a blog post) to share it with others and, hopefully, encourage and bless them in the process. I recently received an email from a sweet woman named Cynthia. She had recently lost her Mom, was a fan of my work, and wondered if I'd like to have...
---
Styles change, but repurposing allows us to continue enjoying our (and our Mom's, Grandmother's, Aunt's, etc.) jewelry pieces! The green and turquoise star earrings pictured below are probably too heavy and, dare I say, a bit too garish to wear with today's styles. But they are beautifully made, interesting in design, and cheerful, right? So . . .placed in an antique gold setting, surrounded by a shimmering swirl of crystals, and attached to a long gold chain - voila, an elegant and one-of-a-kind statement piece! And I have it on good authority that the wearer of this piece is planning to find...
---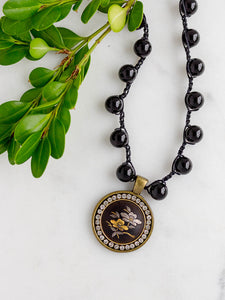 I recently obtained some lovely vintage earrings to repurpose from a small antique shop here in Virginia. The tag was marked "Shakudo" and, of course, I had to look that up! I found the history of these pieces fascinating. Shakudo is an ancient Japanese technique of inlaying gold, silver, and copper into a darkened copper base. It was quite popular in Kyoto, Japan in the 1600-1800's and was primarily used to decorate sword handles.  Introduced to the Western civilization during the mid 19th century, Shakudo was originally thought to be unknown outside of Asia. However, modern researchers have suggested that...
---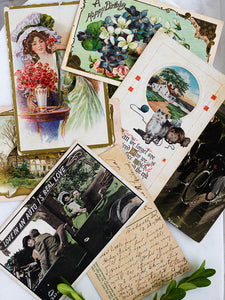 Several years ago my Mom passed along to me a large stack of postcards that had belonged to my grandmother. What treasures! Dating back as far as 1907 (when postcard stamps were one cent!), many had messages on the back - some written in German - faded scrawls saying things like, "How are your crops this year?" And more poetically, "Heavy clouds have spread over my path since we parted." Do you have any old postcards tucked away in a drawer? I'd like to encourage you to get them out, frame them or lay them under glass on a table. Sending...
---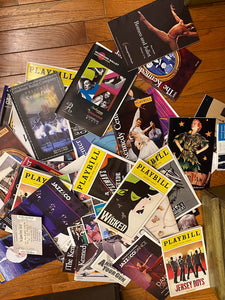 I was cleaning out some drawers and decided I probably needed to recycle these. Can you tell I love the performing arts? In fact, many of my One Of A Kind necklaces are named after ballet, opera, and novel characters. Here are some samples: Anastasia Jewels Eliza Emerald City Odette Titania Gatsby Juliet Violetta Not on my email list? Please join here so you can be the first to know about upcoming pieces as they are released! And always feel free to email me at suzanne@theelegantmuse.com if you'd like to suggest your own favorite character name!